The refreshment of the soul alla quercia
Property Overview
Type:
Bed and breakfast
Address:
Badia tedalda, Via lusato, 95
Owner:
luciana morotti
Pets:
Pets friendly
Location Type:
Mountain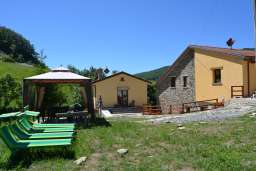 The Oak refreshment of the soul, is a newly renovated Country House dating back to 1700.
It is located in the beautiful nature reserve of the Alpe della Luna, in the Tuscan-Emilian Apennines.
Located between the Tiber and the Valmarecchia, we are surrounded by natural beauty looking unspoiled.
Our B & B offers to all those who desire a unique opportunity to rediscover the soul that reveals itself through the simplicity of nature and the conviviality of the table.
In the B & B you will find a breakfast room with five tables and kitchen bar. It can accommodate companies of hungry people, upon request, can use the kitchen and party until late at night, when our comfortable rooms can accommodate a well-deserved sleep and, when needed, the same room can be used as a conference room in which it is You can view photos, slideshows and movies thanks to this great TV and free internet connection.
For more details see the pictures of BATEPAPO and read more by visiting the section ROOMS.
There are five rooms, all very spacious, brightly lit and comfortable, with private bathroom with shower, free internet, LCD TV and a kettle.
In our B & B's bedroom Butterflies is enabled, visit it in the ROOMS.
In addition, you can spend hours in our beautiful garden of 9000 meters with a coffee outdoors, take a little 'sun in a comfortable deck chair, or a cup of tea and read your favorite book in a hammock in the shade of the walnut , lulled by the warble of the stream that flows around the house.
Maybe we're just the kind of holiday you're looking for a long time!
---
Italiano
Location