Hotel 501
Property Overview
Type:
Hotel
Address:
Vibo valentia, Viale e. bucciarelli
Owner:
eugenio iannella
Pets:
Pets friendly
Location Type:
Cities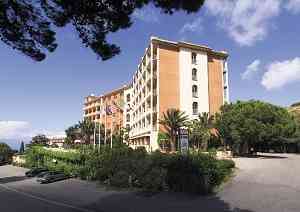 The 501 Hotel in Vibo Valentia is an elegant four star hotel that dominates the enchanting scenery of the Gulf of St. Euphemia. Moving towards the Gulf of Tropea offers a unique viewpoint and a breathtaking view that enhance the magic of Stromboli and the Aeolian Islands.
The prestigious hotel, overlooking the sea, is situated in a prime location to enjoy the beauty of the city and its fascinating surroundings: a stone's throw from Vibo Marina, not far from Tropea, from the sites of artistic and cultural importance, the main shopping centers and civic institutions.
Strategically located, it is close to the railway station of Vibo Valentia-Pizzo and that of Vibo Marina, marina and commercial international airport of Lamezia Terme and the roads connecting.
It also offers the opportunity to easily visit the surrounding areas, including the splendid Coast of Costa and beautiful, a stretch of coast that has about 55 km of coastline alternates with long white beaches, jagged rocks, creating small coves accessible only on foot or by boat.
The 501 Hotel, over the years, has made a careful restyling of the brand identity, affirming the quality of amenities and services and becoming promoters of the culture and characteristics of Calabria, places local flavors.
A daily commitment, diligent and focused to promote the concept of warmth and friendliness, customer care, its relaxing and its fun.
---
Italiano
---
Rates
Min = 59 € Max = 99 € 1 people daily
Min = 79 € Max = 129 € double room for two people per day

Location