Stellamare beach hotel
Property Overview
Type:
Hotel
Address:
Caorle, Via del mare 8
Owner:
Romina Raimondo
Pets:
Pets friendly
Location Type:
Beach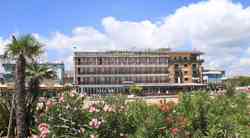 Stellamare Beach Hotel is one of the first hotels built in Caorle. He was born in the 60 's. It is family run and it is located two metres from the beach and a short walk from the old town.
In our hotel you can enjoy the tasty cuisine of our chefs, with the scents and flavours of the gastronomic tradition of Caorle, Italian and international dishes.
Our hotel has two restaurants and one bar: the restaurant "Pizza and kitchen-Terrace Beach", restaurant "Riva al Mare" and the Bar "La Conchiglia" opened for breakfast, drinks, snacks, ice-creams and cocktails. This year we propose the kitchen for Celiacs in both restaurants.
Stellamare Beach Hotel welcomes you in its unique marine atmosphere to let you spend the most beautiful moment of your vacation.
---
Italiano
Location