The palace
Property Overview
Type:
Bed and breakfast
Address:
Montalcino, Via panfilo dell'oca, 23
Owner:
Cinzia Carcano
Pets:
Pets friendly
Location Type:
Cities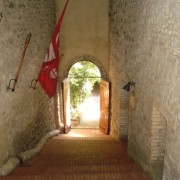 Historical building of 1500, which still offers all its glory.
Located in a strategic position, in a few seconds you can reach the historic center, you can find them all kinds of entertainments: churches, museums and wineries where you can taste the best dishes of the Tuscan tradition and taste the wines that have made them famous lands.
At B&B "Il Palazzo" familiarity and home, Ms. Cynthia and Mrs. Daniela welcome you and will satisfy your needs, wowing the day with their sympathy and kindness.
Hospitality is offered in charming, comfortable rooms, complete with every comfort to make your stay unforgettable.
The morning American breakfast is served in the breakfast room, where guests can serve you for all the goodies you want.
Inside the palace there is a terrace where you can eat or relax enjoying the great bell of the country or read a good book.
---
Italiano
---
Rates
Min = 40 € Max = 60 € 1 people daily
Min = 80 € Max = 150 € double room for two people per day

Location