The dawn
Property Overview
Type:
Vacation rentals
Address:
Motelparo, Strada provinciale 103
Owner:
Stefano Ciaffoni
Pets:
No pets
Location Type:
Countryside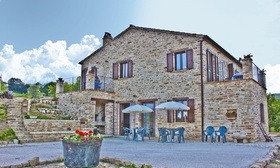 We are a B & B in Montelparo, Marche, in a luxurious villa in the countryside.
The accommodation is located between Ascoli Piceno and Fermo, near Santa Vittoria in Matenano.
We have 4 fantastic rooms with air conditioning, TV and Wi-Fi and a large swimming pool OpenSpace 18x8x1.2.
We offer a rich breakfast.
---
Italiano
---
Rates
Min = 60 € Max = 90 € 1 people daily
Min = 70 € Max = 100 € double room for two people per day
Min = 1500 € Max = 2100 € weekly
Location