Monte termine
Property Overview
Type:
Bed and breakfast
Address:
Marzabotto, Via termine, 11
Owner:
sarah bernardi
Pets:
Pets friendly
Location Type:
Mountain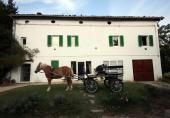 We are located in the heart of the historical park Montesole between Emilia Romagna and Tuscany, just 40 minutes from Bologna.
If you want to take a few days relaxing in the open away from the noise of the city you can stop in our comfortable rooms with private entrance and a large garden where you can sunbathe.
The bed and breakfast is located within an equestrian center and if you want you could make beautiful horseback riding enjoying the wilderness or just learn to ride a horse and if you get hungry you can stop to taste the typical products of the area.
Call or write and book your vacation! visit our website
---
Italiano
---
Rates
Min = 30 € Max = 35 € 1 people daily
Min = 60 € Max = 70 € double room for two people per day

Location