B&b la voce del vento
Property Overview
Type:
Bed and breakfast
Address:
Pastena, Via colle vena, 2
Owner:
B&B La Voce del Vento
Pets:
Pets friendly
Location Type:
Countryside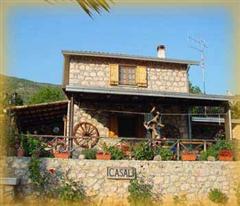 The "Voice of the Wind" is an oasis of peace that will make you want to pull the plug from the rest of the world.
Weather permitting, the Eco B & B La Voce del Vento offers guests a swimming pool which is set in the rocks at the foot of a forest, you can dive admiring the scenery ... it's a unique experience.
The structure is equipped with sun loungers and parasols. The bar service and access to the swimming pool are open from 9.00 to 19.00.
The Eco-B & B La Voce del Vento Pastena is part of the First Italian Hotel Chain eco-friendly EcoWorldHotel.
A bit of history:
E 'in 1975 when the family Bisceglia, resident in Rome, is looking for a home to spend the weekend: a place that has the power to remove the stress of the city and give a new office for the body and mind for both the householder, Pasquale, for years engaged in the tourism sector, both for his wife, Karin of German origin, who, while loving Rome, misses the green and the tranquility of its country of origin, and for the three children, Alexander, Esther, and Silvia, given the age, just want to have room to run and play.
And 'thanks to a school project on the children to the world of caves that Pasquale decide to visit with his children the famous Caves of Pastena. All entranced by her beauty, agree to enhance your visit and also to the surrounding area, walking in the countryside and picking blackberries, find themselves in a clearing with an old abandoned house and a beautiful landscape: the view of the village of Pastena, and from that point seems a crib, a lot of green around, the chirping of birds and a gentle breeze and refreshing, in that atmosphere that seems to have a sound all its own. And 'that's when Pasquale think to turn the old ruins, which belonged to the Marquis "Casali La Rocca" since 1878, the "Voice of the Wind." Little by little, and with the help of all the family began the renovation of this house located in Contrada "Country", in memory of the illustrious landowner, and the beautiful result is today the fruits of this family for the nature, traditions and country life.
The owners of the Voice of the Wind speak different languages ​​and have the cult of hospitality gained over many years of experience in the tourism / hospitality.
---
Italiano
Location