Casa de turismo rural las carolinas
Property Overview
Type:
Farmhouse
Address:
Solares, Anaz
Owner:
lucia
Pets:
Pets friendly
Location Type:
Mountain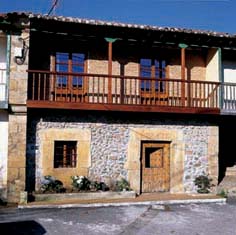 These three houses are located in Anaz, a charming town of Cantabria.
The house is old mountain style about 200 years, retains the original door balcony and like the stone, and you can enjoy their gardens.
Each house is completely independent of the other and to a comprehensive reform both inside and outside the houses have all amenities like heating, microwave, hot water, washing machine, TV, fridge, coffee maker, blender, extractor fan, hob, towels, quilts, linens, garden etc.
Its privileged location is a great advantage of these houses because they are a quarter of an hour from Santander, 10 minutes Cabarceno Park is one of the finest Zoos in Europe, 20 minutes from the beaches of Langre, Somo. Pedre˝a and Galizano, 30 minutes from the Caves of Puente Viesgo Lierganes 10 minutes, 1 hour from Bilbao and the Guggenheim Museum.
This mountain style home has been decorated by interior decorator and garden Piris Carolina by German landscape designer Jan Bellut, taking care of every detail to make your stay as pleasant as possible.
In this privileged location you can enjoy the tranquility of a village and its charm, as preserved in the typical rural atmosphere.
---
Italiano
Location