Residenza gonzaga
Property Overview
Type:
Bed and breakfast
Address:
Serracapriola, Via sant'anna 18
Owner:
B&B Residenza Gonzaga
Pets:
No pets
Location Type:
Countryside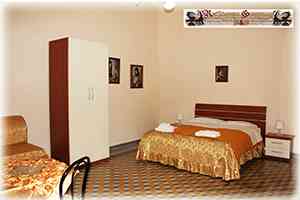 - 10km from the sea
- Located in the Old Town
- In the Park of Gargano
The Delightful B & B, built in a building of the '800, in the quiet of the historical center, very close to its historical and architectural symbols of Serracapriola: the monumental medieval castle (XV) and the large avenue (XVIII) which follows the system of Parisians "Champs-Elysées".
The building that houses the B & B has been affected by restoration to enhance the historicity and adapt its functionality housing quality standards ensuring excellent.
All environments are characterized by an understated elegance, combining ancient and modern, all complemented by architectural elements that contribute to enrich the charm.
---
Italiano
---
Rates
Min = 25 € Max = 30 € 1 people daily
Min = 50 € Max = 60 € double room for two people per day

Location