Hotel centrale jesolo
Property Overview
Type:
Hotel
Address:
Lido di jesolo, Via dante alighieri, 5
Owner:
Centrale
Pets:
No pets
Location Type:
Beach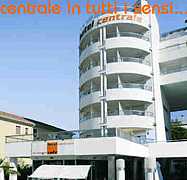 Hotel Centrale offers you a warm welcome in its comfortable and modern surroundings for a memorable holiday in Lido of Jesolo. the Hotel is situated in the very heart of the resort on Piazza Marconi, a recentle renewed square, where great entertainment events are organized in summer as well as in winter.
The beautiful sandy beach is only 50 meters away. Venice airport and the nearest train station are 20 minutes away.
Open all year round with Venice 55 minutes away.
---
Italiano
Location