Alpin garden wellness resort*****
Property Overview
Type:
Hotel
Address:
Ortisei, Strada josef skasa, 68
Owner:
Markus Hofer
Pets:
Pets friendly
Location Type:
Mountain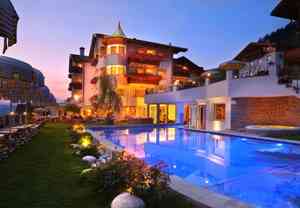 Your hotel in Gardena
Dear guests and friends of Alpin Garden Wellness Resort,
Home is where the heart is. We are dedicated to giving you the feeling that you are at home at our place.
Here at our wellness hotel in Gardena you will find warm hospitality and excellent service. Alpin Garden Wellness Resort is located in the beautiful holiday valley of Gardena and is one of the few 5-star hotels in South Tyrol.
Our wellness hotel offers a range of facilities and services to guarantee you a good time. You will love chilling in our Cleopatra spa, and nature lovers will find plenty to see and do in the Dolomites World Heritage site, in summer and in winter. Alpin Garden Wellness Resort is the ideal departure point for many exciting tours in the Gardena valley.
One of the great strengths of our 5-star hotel is our culinary offer, ranging from Mediterranean and traditional dishes to top-class international cuisine. Here you will be able to enjoy stunning, healthy and tasty dishes. We will do everything we can to make sure you will have unforgettable holidays.
We look forward to meeting you!
Markus Hofer
& staff at Alpin Garden Wellness Resort
---
Italiano
Location