Breakfast house sgaraglino
Property Overview
Type:
Farmhouse
Address:
Selinunte, Contrada latomie torres
Owner:
Marta Sgaraglino
Pets:
Pets friendly
Location Type:
Beach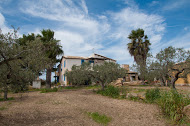 Our company was founded on the will and conviction of my grandfather "Coco" that no race can prosper until it learns that there is as much dignity in cultivating a field that in composing a poem.
As well as a poem born in 1950 about our company, located in one of the most beautiful places in the world: the Belice Valley, Valley Art, Culture and strong identity of the countryside.
Our company is spread over about 14 hectares of land planted with olive trees, mainly the cultivar "Nocella Belice" with elements of "Gruppusa", "Biancolilla" and "Palermitana".
Other 7-hectare stretch in the hills of Salemi, these varieties with olives "cerasuola".
The olive trees give life to oils with different characteristics, flavors and aftertaste own. Both, however, can be called "sapuriti" Sicilian term, translated into tasty, fragrant but also wholesome and healthy, precious oils and with character, strictly grown and processed organically. Because the only secret to produce good oil is work it onestamente.Nel 2006 my father will have created, on the basis of an old rural block, the center of our property, which for 50 years, as required by the bucolic tradition, was only used as a warehouse for the working tools, a Farm.
The deal would keep the architectural style giving a touch of "freshness" with the choice of blue fixtures, evocative of the color of the sea, only a few kilometers.
This wonderful property, surrounded by nature, has 9 rooms, including single, twin, double and triple rooms, each with practical bathroom. Breakfast is served to our guests in the verandas, so that they can enjoy the sweet smell of the olive trees that binds to that sparkling sea.
On Farm you can also avail of the catering services. Our cuisine is typical of Belicina tradition, and the favorite products are those at 0 km, not to allow the stay in our "house" is the right balance between nature and good food.
In periods of October / November for our guests can actively participate in the olive harvest, following the entire cycle produzione.Alla end of their stay they can take away the fruits of their experience.
---
Italiano
Location